Industry News
» Higher crop acreage, rain lift India fertilizer sales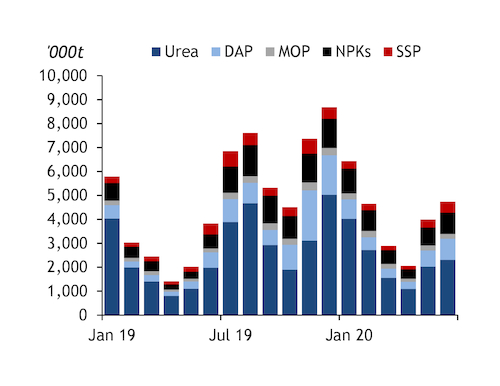 Total fertilizer sales — urea, DAP, NPKs, MOP and SSP — have already surpassed June 2019 levels this month (see chart). Sales have hit 4.74mn t as of 22 June, up from 3.84mn t in the month last year, continuing the momentum seen in May, latest government data show.

Total fertilizer sales in India have now risen to 24.7mn t this year, as of 22 June, up from 18.5mn t in the first half of last year.
Strong agricultural fundamentals have spurred end-user fertilizer buying, with farmers raising crop sowing acreage so far this kharif season, running from April-September. Crop sowing has risen to 13.1mn hectares (ha) as of 19 June, up from 9.4mn ha at this point last year. Sowing acreage of the oilseeds and cotton crops has outstripped last year's levels, up by around 1.27mn ha and 1.06mn ha, respectively.
Monsoon rainfall starts strong
Farmer fertilizer purchases have also been encouraged by attractive weather conditions this monsoon season.
The country's meteorological department had lifted its projections for the monsoon, which usually occurs from June to September, raising it to 104pc of the long period average (LPA) of 88cm on 1 June.
The upgraded forecast appears justified with rainfall this month outstripping typical levels, hitting 141.5mm as of 23 June, compared with an average of 114.2mm at this point in the season. Rainfall in Goa, in central India, has been particularly heavy, hitting 966mm, up from standard levels of 651.1mm.
Source from Argus